Cafe Du Pain Bakery Awarded 2019 Small Business of the Year Award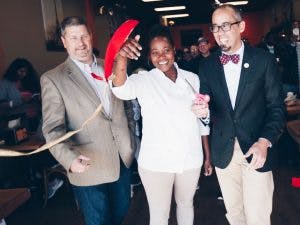 The bakery is recognized for contributing to the economic vitality of Lawrence Township
LAWRENCE, N.J. - August 29, 2019
Café du Pain Bakery was recently awarded the 2019 Small Business of the Year Award by the Growth and Redevelopment Committee of Lawrence Township. The bakery receives this award one year after opening its doors at The Lawrence Shopping Center.
"Any business owner can tell you about the painful, yet exhilarating, process of starting and building a new business," said Marie Onyeani, co-founder/chief baker of Café Du Pain Bakery. "We work tirelessly to connect people and community over fresh and delicious pastries. To be selected for this award is a momentous occasion for us. It reinforces that our efforts are not in vain."
Each year the Committee conducts an awards program to recognize businesses, individuals and civic groups that contribute to the economic vitality of Lawrence Township. This is its 21st annual Awards.
"A privilege, in my role as mayor, is to see dynamic businesses like Café Du Pain thrive," said Christopher Bobbitt, Mayor of Lawrence Township, N.J. "Business owners who understand the essential link between community vitalization and growth are essential to our neighborhoods. I am proud of the work Lawrence Township is doing in supporting and recognizing the contribution business leaders, such as Marie, are making to our community."
The Bakery seeks to be a cultural hub, providing a varied list of activities that cater to a wide audience, including fundraising with and for local schools, and baking classes to children to increase their love of baking.
"We are on a mission to expand people's love for baked goods," continued Onyeani. "We tailor our services to adhere to the different needs of our community, through in-house experiences for individuals and families, or through catering services for corporations. We encourage anyone who hasn't experienced Café du Pain to stop by."
The awards ceremony breakfast is scheduled Wednesday, Oct. 23, 2019, 8:00 to 10:00 a.m. at Cobblestone, 2170 Lawrence Road, Lawrence Township, NJ. The program will include a keynote speaker followed by the presentation of the awards.
About Café Du Pain Bakery
Café Du Pain Bakery leverages the power of food to create a more delicious world. Food creates bonds and builds connections. We mix cross-cultural spices with intentionally sourced ingredients to serve dishes that are unique, yet familiar. The Bakery serves fresh goods, delicious coffee, tasting cultural food experiences and community events. Services include breakfast, brunch and lunch, wholesale, catering services, classes, and distinctive events for celebrations and company meetings. Visit www.cafedupainbakery.com.
About the Committee
The Growth and Redevelopment Committee consists of members from the business community, area residents, and representatives from various Township boards. This appointed committee serves as an advisory body to Town Council on matters concerning growth and redevelopment.
The Committee identifies, selects and awards those who have made significant or unusual contributions to the economic growth of Lawrence Township. Visit http://www.lawrencetwp.com/com-growth.html.