Café du Pain Bakery Proud Recipient of Caress IFundWomen of Color COVID-19 Grant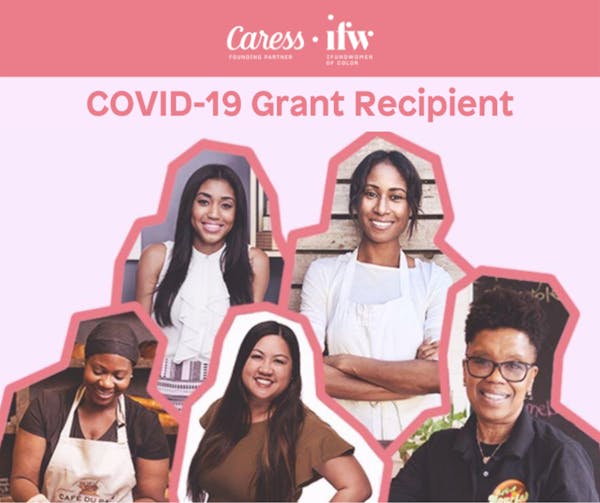 Café du Pain Bakery Proud Recipient of Caress IFundWomen of Color COVID-19 Grant
Celebration of Black Business Month in August provides great opportunity for community continued support of Black-owned small businesses
Lawrenceville, NJ, August 13, 2020 – Café du Pain Bakery is proud to be one of the recipients of the Caress IFundWomen of Color (IFWOC) COVID-19 Grant. IFWOC and Caress have partnered to support 200 women of color owned small businesses in grants for COVID-19 relief.
"COVID-19 has uprooted the entire world and small businesses are facing major hurdles from the halt of everyday activities," says Marie Onyeani, co-founder and chief baker of Café Du Pain Bakery. "Caress and IFWOC's grant is providing relief and hope to Black women who own small businesses. Their recognition, support and contribution encourage us to keep fighting to stay afloat during this time of unprecedented crisis."
For nearly six months, COVID-19 has been severely impacting communities and small businesses in the U.S. And the disadvantages entrepreneurs who are women of color typically face, such as reduced access to business loans, have only increased. As we celebrate Black businesses during the month of August, highlighting their importance for the country's economy, communities have the opportunity to show support, especially as such businesses face greater hardship during the pandemic.
"Access to capital has a significant impact on a growing business, yet it remains a top challenge for women entrepreneurs and even more so for women of color," said IFundWomen of Color Creator Olivia Owens, " We found that 81% of our applicants cite funding as their #1 barrier to launching and growing their businesses. IFWOC is on a mission to address this head-on by making access to capital and coaching part of every member of our community's entrepreneurship journey."
"Café du Pain Bakery is an award-winning creole inspired bakery," continues Onyeani. "We pride ourselves on serving amazing food that takes people on a multicultural journey, and now that people are restrained to their homes, this is more important than ever before. Funding will allow us to adapt to the current realities of COVID-19, positioning us to survive long beyond the pandemic."
Café du Pain Bakery leverages the humanizing power of food to create a more delicious world. The Bakery started serving the Lawrence, New Jersey community in August 2018. Since, the bakery has become a staple in the community winning the 2019 Small Business of the Year Award by the Growth and Redevelopment Committee of Lawrence Township.
Support Café du Pain Bakery during COVID-19 or visit their website for more information
About Café Du Pain Bakery
Food is familiarity that serves understanding to create bonds used to build connections, so we mix cross-cultural spices with intentionally sourced ingredients to serve up dishes that are at once unique and yet familiar. A more delicious and connected world can be achieved, and Café Du Pain Bakery serves fresh baked goods, delicious coffee, tasting cultural food experiences and community events. Café Du Pain Bakery serves breakfast, brunch and lunch, wholesale, catering services, baking classes and distinctive events for celebrations and company meetings.
We welcome you and your guests to a delicious destination for a unique experience!
To learn more about Café Du Pain Bakery visit https://www.cafedupainbakery.com
About Caress and IFWOC Partnership
IFundWomen of Color was created with our founding partner Caress to help diverse entrepreneurs bring their dreams into reality through raising capital via crowdfunding and providing grants, coaching, and the connections needed to launch and grow successful businesses.
Caress is saddened by the severe impact that COVID-19 is wreaking on communities and on small businesses and entrepreneurs. They recognize that in this critical time, small businesses are struggling immensely and the disadvantages that women of color entrepreneurs face are only growing. As a founding partner of IFundWomen of Color, Caress is proud to be supporting 200 women of color owned small businesses with $500,000 in grants for COVID-19 relief.